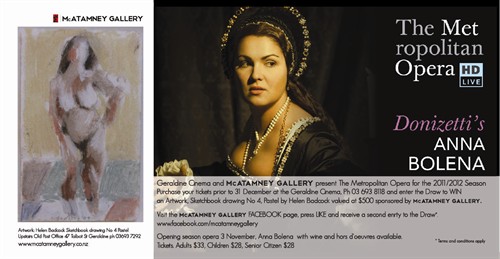 The Geraldine Cinema and McAtamney Gallery present The Metropolitan Opera for the 2011/2012 Season.
Opening season opera: Anna Bolena on 3rd November with wine and hors d'oeuvres available.
Tickets. Adults: $33, Children: $28, Senior Citizens: $28
Phone the Geraldine Cinema, 03 693 8118 to book your tickets.
SPECIAL PRIZE DRAW
All tickets purchased before 31st December 2011 will go into the draw to win an ARTWORK: Sketchbook Drawing No. 4, Pastel by Helen Badcock, valued at $500.00.
To receive a second entry into the draw, visit Mcatamney Gallery on facebook and LIKE us. All likes added before 31st December 2011 will be entered in the draw.
SCHEDULE*
Thu 3 Nov 7.00pm Donizetti's Anna Bolena (4 hrs 5 mins)
Sun 20 Nov 4.00pm Mozart's Don Giovanni (3 hrs 55 mins)
Sun 4 Dec 4.00pm Wagner's Siegfried (5 hrs 56 mins)
Sun 18 Dec 4.00pm Glass's Satyagraha (4 hrs 8 mins)
Sun 22 Jan 4.00pm Handel's Rodelinda (4 hrs 15 mins)
Sat 11 Feb 7.30pm Gounod's Faust (4 hrs 20 mins)
Sun 26 Feb 4.00pm Handel, Vivaldi and Rameau's The Enchanted Island (3 hrs 35 mins)
Sun 11 Mar 4.00pm Wagner's Gotterdammerung (6 hrs 24 mins)
Sun 1 Apr 4.00pm Verdi's Ernani (3 hrs 49 mins)
Sun 29 Apr 4.00pm Massenet's Manon (4 hours 8 mins)
Sat 19 May 7.30pm Verdi's La Traviata (3 hours 7 mins)
* We make every endeavour to ensure this information is correct, but you should check session times with the cinema when booking your ticket.