Exhibition History
Sarah Deans | From My Garden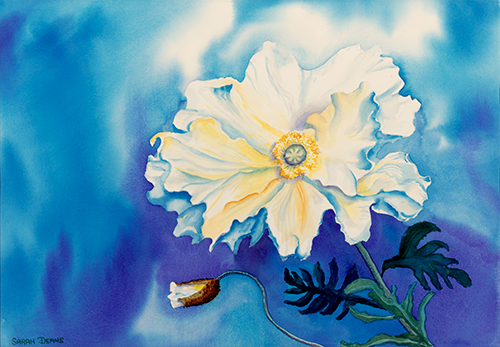 Exhibition Closing Sunday 29th September 2013
Media Release
From 1980 Sarah began exhibiting and selling her Paintings on a regular basis. As President of the Cheviot Art Society she strongly encouraged, education and led her fellow artists to participate in workshops including CSA and the University Summer Schools in Christchurch. Until 1986 she exhibited annually in the CSA and Ashburton, Cheviot and Kaikoura Art Societies.

From 1986 to 1991 She exhibited at Gallery 7 in Christchurch. Her first exhibition in Auckland was in 1987, and showings were also in the MacDougal, Souter and Aigantighe Galleries at that time. In 1992 she opened the Sarah Deans Art School which grew rapidly and established its place in the Arts Centre

In 1998 Sarah moved to Sydney and opened a second school. Her first solo exhibition in Australia was held in 2000 at the Michael Commerford Gallery, and for the next 10 years she exhibited annually, returning to New Zealand in 2009. Exhibitions since then were in the Prebbleton Gallery, in the Bryce Gallery and Merivale Fine Arts Gallery.

Recently she has moved to Akaroa, and exhibited in the Arte et Fare Gallery, as well as the Whisky Gallery in Oamaru.
Artists Statement
Sarah's paintings are characterised by her bold use of colour and tone. Her subjects come from nature - flowers, landscapes and skyscapes. Her work explores the influences of the subconscious and spirituality on her experience of her subjects. This is the primary influence on her choice of technique - applying layers to attain translucency.
Exhibition Gallery